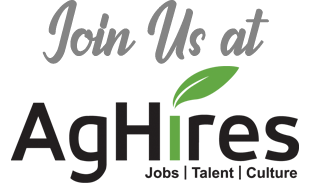 Bring your passion for agriculture and grow with the AgHires Team!
See all of our current openings, or to be considered for future openings, send your resume to resumes@aghires.com.

Our Culture
We're highly team-oriented and driven. We thrive on using our passion for agriculture and our recruiting experience to be advocates for our clients throughout the process. Our leadership team is incredibly supportive of professional and personal growth with a strong emphasis on work-life balance. You'll never find stronger leaders and mentors than you will at AgHires.
Our Vision
Fueling the success of agriculture by elevating the talent across the industry.
Our Core Values
Positively Impact Lives
Win collaboratively
Encourage Creative Growth
Advise with Humble Confidence
Exceed ROI Expectations
Our Mission
Serve as the go-to strategic advisor and solution provider for employers hiring top talent and job seekers growing their careers, all while building the largest online community where they can connect.
A Successful AgHires Team Member...
Has passion for Agriculture
Enjoys

helping others

and contributing to the Ag Industry
Has an

entrepreneurial

spirit and is motivated by unlimited earning potential
Has a competitive drive
Has the ability to work independently from home with the majority of your time spent at the computer or on the phone
In addition to our fun culture, we offer
Competitive base salary with bonuses

Health, Dental, Vision, and Life Insurance

401K with 4% Company Match
3 Weeks Vacation
Flexible Schedule
Meet AgHires
Welcome to AgHires! We are a leader in recruiting and job advertising for the agriculture, agribusiness, food production, produce, and horticulture industries. We pride ourselves on deep partnerships, open communication, and integrity to deliver top talent. Our clients are within the United States as well as Canada and range from mid-size to Fortune 100 companies. We have a differentiated approach to recruiting and share the same passion our clients have for the food and ag industry.
April Tutor
Recruiter
Industry Background: Born and raised on a farm, I went on to be involved in Crop Research, Agronomic Sales, Financing, and Precision Ag.
Favorite part of my job: I enjoy talking to and working with so many people with different backgrounds in agriculture. It's a great feeling when I have succeeded in helping a client find the perfect candidate and helped a candidate find the perfect role.
What is it like at AgHires: Is it really work if you love what you are doing? I get to talk to so many people from different walks of life and in different aspects of agriculture each day. Every day is a learning experience for me.
Dakota Roberts
Client Relationship Manager
Industry Background: With a degree in Insurance & Risk Management, I have experience in Insurance Sales and Underwriting Agribusiness and Personal Insurance. I grew up in 4-H, and have a passion for agriculture.

Favorite part of my job: I enjoy talking to all of our clients about what they're struggling with when it comes to hiring and providing solutions for them.

What is it like at AgHires: Fun! Everyone is super encouraging, and it is a great team atmosphere!
Taylor Embry
Recruiter
Industry Background: I grew up in a farming family, showed livestock, and was involved in 4-H and FFA, which led me to a degree in Agribusiness Management with a minor in Crop Science.
Favorite part of my job: It is inspiring to work with individuals and companies that are passionate about agriculture while learning about every sector of the industry. Every day is something new.
What is it like at AgHires: You're surrounded by talented and driven individuals that push you to grow and succeed while making an impact on the agriculture industry.